Main Content Starts Here, tab to start navigating
About
Helm Oyster Bar & Bistro is an ode to the coast and farmland offering an intimate dining room, bar, and seasonal outdoor patio along Portland's historic waterfront. Our raw bar offers a selection of shellfish and seafood such as oysters, clams, and crudo. Expect a full menu that changes frequently to reflect seasonal and locally-sourced availability. Our bar focuses on natural wines, rotating New England beers, and unique cocktails.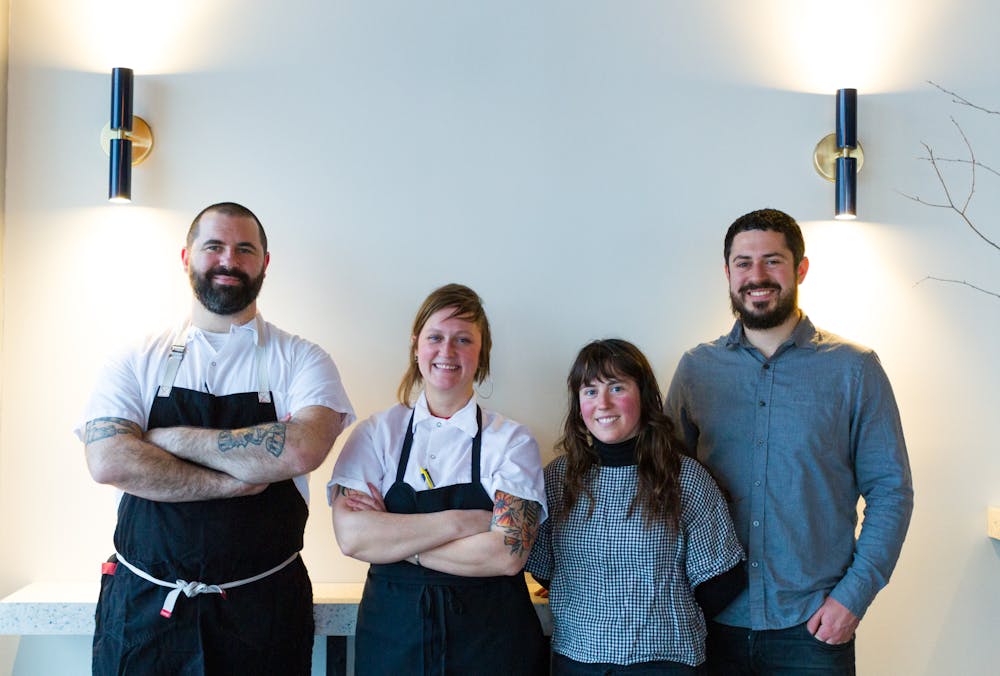 Billy Hager, Chef
A Bay Area native, Billy brings a seasonal, simple, ingredient driven approach to food. He cooked at San Francisco's Waterbar and then became the Chef and a partner at Homestead in Oakland before making the move to Maine. Billy most recently worked at Flood's and Drifter's Wife, both in Portland.
Dana Woodward, Sous-Chef
Dana comes to Maine most recently from San Francisco, where she was chef de cuisine at neighborhood staple Dobbs Ferry, and before that served as sous chef to Justin Baade at Waterbar. She has a BS in Wildlife Ecology from SUNY Plattsburgh, and her passion for sustainability continually informs her cooking.
Elizabeth Legere, Owner
After years of working as a florist, Elizabeth transitioned into working in kitchens. While living in Boston she worked at Bisq, sister restaurant of the late Bergamot. In 2017, Elizabeth moved to Portland and soon worked with Ben Jackson at Drifter's Wife as a prep cook. Next, she helped open More & Co. Then, in 2019, she pursued her own restaurant.
James Rose, General Manager
James previously worked at Neptune Oyster Bar in Boston's North End neighborhood where he developed his love for raw seafood and wine. After having worked at Neptune for several years, James left to move to Portland to take on the role of General Manager at Helm.
Private Dining
Our private dining room is now available for parties of four to eight guests.
We will offer a prix fixe menu that changes weekly with raw bar supplements such as oysters, crudos, and caviar. Our bar offers a focus on natural wines, rotating packaged beer, and unique cockails. A vegetarian menu and a gluten free menu are available upon request.
The room is open from 5-8pm Wednesday-Sunday.
Please fill out the inquiry form below or call us at 207-613-9918 to make a reservation.
* COVID-19 protocol: all staff members wear masks and practice healthy hygiene and wellness, masks and gloves are in good stock at all times, hand sanitizer is provided at the host stand, we routinely clean surfaces including doors and handles, this room is booked for only one party a night at this time, this is a brand new restaurant with a brand new HVAC system. Please let us know if you have any questions or concerns.